Giggly Grammar and Crazy Composition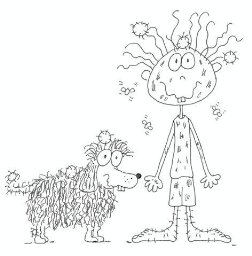 Mentors: ToriAnn Perkey, Alysia Hurtado
Time: 1:00 to 2:55
Description: Ready to laugh every day at ASA? Come join us as we giggle our way through commas and quotation marks, chortle at nouns and verbs, and guffaw at phrases and clauses. Put on your crazy hat first semester as we write about alien vacations to earth, building-size beach balls, stinky feet, and magical toothbrushes.
We will also journey deep into the mystical world of essay writing, discovering the who, the what, and the how. Hang on tight because the ride may get wild, and the crazy may jump to a whole new level.
Somehow — amidst all the snortling and chuckling, silly stories and wild ideas — it is just possible that you'll acquire a solid grammatical foundation of the English language, discover your own wacky creative-writing style, and build an essay that will make your mother cry (which is a good thing!).
Level: Journeyman
Depth or Breadth? Breadth
Ages: 12 and up
Tuition: $65 fall semester, $20 winter semester
Prerequisites: Students must be able to type writing assignments (or have a parent willing to type assignments).
Parents will need to proofread student papers before they are turned in.
Students do not need to have any previous grammar or writing class experience. However, because this is a Level 2: Journeyman class, they should be ready to complete assignments because they WANT to not because there is an incentive attached.
Materials Required: A laptop for some class days. Students will spend some time working on essays in class. On these days, it will be very difficult for the student to use their time effectively if they do not have a computer.
Homework: Students should expect two to three hours of homework per week. Some assignments from our Giggly Grammar book will be completed and corrected at home. Writing assignments will be completed at home, along with revisions. All writing assignments must be read and proofread by a parent prior to being submitted. (Grammar assignment weeks should take less time; writing-assignment weeks may take longer.)
Notes: The purpose of this class is to teach you grammar and punctuation skills that will help you successfully communicate. The writing assignments are a way to practice these skills. The creative writing assignments will be lighthearted and fun. The essay writing topics will vary and cover a variety of essay styles. Your assignments will be reviewed and returned, and you may be expected to make corrections and turn in revisions.