Key of Liberty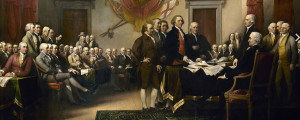 Mentors: Beth Boyle
Time:  10:30 to 12:25
Description: Key of Liberty is an inspirational two-semester course that allows students to take an in-depth look at the founding of our nation as well as the inner-workings of our Republican form of government. This will be done through interactive discussions, book discussions, presentations, writing, field trips, simulations, and games. Students will come to understand their responsibility to America and freedom, why a moral people are required for good government, what their God-given rights are, and the proper role of government. Students will also learn the Declaration of Independence and the Constitution in depth, and how to be virtuous leaders that protect and move the cause of liberty. Students will study the lives of many of the influential men and women of the colonial period, revolutionary era, and early republic. Students will gain an understanding of the importance of getting a great education, having public and private virtue, and that they each have a personal mission to fulfill.
Level: Apprentice
Depth or Breadth? Breadth
Ages: 12 and up
Tuition: $90 fall semester, $60 winter semester
Prerequisites: Read "Red Scarf Girl" before the first day of class. You may want to start memorizing the Declaration of Independence as well.
Homework: 
Fall Semester
Read and document study the Mayflower Compact
Watch one of the required movies
Read all four books Red Scarf Girl by Ji-li Jiang ,The Landing of the Pilgrims by James Daugherty, John Adams, the Reluctant Patriot of the Revolution by Leonard Falkner, and excerpts from The Real George Washington by Jay A. Parry and Andrew M. Allison
Memorize and recite "The Declaration of Independence"
Give a class presentation
Fulfill the requirements for the United States Heritage Award
Complete six writing assignments
Memorize the Ten Commandments
Memorize and be able to place the thirteen colonies on a map
Winter Semester
Memorize the Preamble to the Constitution
Watch the required movies
Read and understand the Constitution by annotating in a journal
Write a 2-4 page Hero Report
Read the four books Freedom Factor by Gerald Lund, Fifty-five Fathers by Selma R. William or Shh! We're Writing the Constitution by Jean Fritz, The Great Little Madison by Jean Fritz, and The Proper Role of Government by Ezra Taft Benson.
Complete nine Writing Assignments
Read George Washington's Farewell Address and complete the vocabulary list
Memorize 5 Scriptures and 5 additional references from your own list
Participate simulations
Note to Parents
Parents help by teaching students how to manage their time and guide them as they plan what homework they need to do on a daily basis. Students are never forced to do the requirements, but encouraged with reminders and support. Each week your student will be assigned a question to think and write about. You can discuss these questions with your student but allow them the freedom to write their own response. You can help your student track their progress in earning the requirements for all the incentive awards. Your student will be doing a lot of memorizing for this course, so you will want to help them find a memorization technique that works well for them.
Notes: Because this is an Apprentice Level class you are invited to begin engaging in scholarly work, but the requirements are optional. However, the more you put into this class the more you will love it and come away with something priceless. As mentors we are willing to help you reach this goal in the best way we can. If you choose to finish all the requirements, you could be doing between three to six hours of homework a week depending on your level of ability and skill coming into our class.
Books Students Provide
Title: Red Scarf Girl (Read before the first day of class.
Required: Yes
Own or share with sibling? Share
Notes: This book should be read before the first day of class.
Title: The Landing of the Pilgrims by James Daughtery
Required: Yes
Own or share with sibling? Share
Title: The Freedom Factor, by Gerald Lund
Required: Yes
Own or share with sibling? Share
Title: The Real George Washington, by Jay A. Parry and Andrew M. Allison
Required: Yes
Own or share with sibling? Share
Notes: We will only read portions of this book.
Title: The Great Little Madison, by Jean Fritz
Required: Yes
Own or share with sibling? Share